Working in Bollywood was not my strength: Twinkle Khanna
Twinkle Khanna on why she has no intention of reviving her film career as she talks about her second book, The Legend of Lakshmi Prasad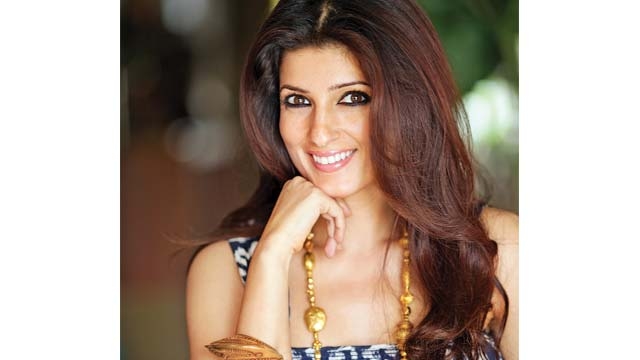 After a long session of media interviews, Twinkle Khanna is tired and not in the mood for a shoot. But when we tell her that her second book, The Legend of Lakshmi Prasad that releases on November 15, almost made us miss our local train station as we were so engrossed in reading it, her face lights up. "That's very heartening and gratifying to hear," she says. After her debut with Mrs Funnybones, which was the highest selling book for the year 2015, her next, is a collection of four short stories, that are bound to make you, 'as Twinkle puts it, 'laugh a lot and sigh a little'. Excerpts from a conversation with the very witty, Twinkle Khanna:
Did you set out to make people 'laugh a lot and sigh a little' with this book?
No, everything actually happened in an organic way. I was already 10 chapters down of a book I was writing. Then while doing some research on menstruation for one of my columns, I came across the story of Muruga. It fascinated me because there was this man doing extraordinary things for women in the most intimate aspects of their life, trying to dispel taboos about it and trying to educate women who needed that. He did not take himself seriously, he was a funny guy and had great one-liners. Even without meeting him, I wrote five pages down and sent it to my editor. Then I chased him all over the world, and finally after many interviews in Coimbatore, Mumbai and London, he agreed to let me fictionalise his story. So that's the first story I wrote. I was thinking about other ideas as I went along. In those ten chapters I wrote earlier, there was Noni Appa and Binni. I have been trying to write this story since I was 18. These two characters have been with me for two decades in my head.
Your first book, Mrs Funnybones, was semi-autobiographical. Was it harder writing fiction?
It was liberating! (laughs) As Mrs Funnybones, I'm restricted to a lot of areas. If I want to portray my child as evil and possessed by Satan, I really can't do that but here I could do that with a character.
The stories are set in small towns and villages, and the characters belong to different cultures. Was it tough doing the research?
I love research! I'm a nerd. I have this big blue book which somebody gave me that has 'Girl Boss' written on it. (Don't judge me by it!) I first plot every story in that. After that, I do all my research which is very meticulous. I love to know that I have done my best to write an authentic story. It's like following a trail of bread crumbs and I find that fascinating.
By your own admission, you are outspoken. But going by the responses to your writings on social media, do you think the same outspokenness has worked for you in your writing?
That's because, in writing, you also have a chance to rewrite and refine and see that your words don't offend people. When you're outspoken in life — and if you do that in social situations — you don't have time to refine that. You may end up offending people, which may not be your intention. My whole life I've been trying to make people laugh. It's not even about making people laugh, it's about making myself laugh. I crack the most lame jokes and laugh the loudest at them. If you laugh with me, fantastic, if you laugh at me, fantastic. If you don't laugh, I don't care.
Apart from your editor, who reads your columns or writings?
In the beginning, it was my both my husband and sister. When I was writing for After Hrs, even my son would read my columns and give me marks. But now, my husband does have a look just to make sure I'm not in deep trouble.
How do you deal with criticism?
I want to sleep comfortably at night. Having pride stuck up my a** is not going to be very comfortable lying down. So I would be pretty upfront about it. If I haven't got my point clearly across, it is my inability and not somebody else's lack of perception. But there are cases when people will misunderstand anything and everything. Recently, I wrote on social media that I read a book which was wonderful despite being tone-deaf and somebody was offended about the word tone-deaf! I was like, if you make everything politically correct, how will you play with language?
Your book Mrs Funnybones is a contender for the Popular Award in the non-fiction list at the Raymond Crossword Book awards with the likes of Ashwin Sanghi, Sudha Murty, Devdutt Pattanaik and Avirook Sen. What are your thoughts on that?
If I win, fantastic. I just say may the best woman win, so that's me or Sudha Murty! (laughs)
Do you find it ironical that you did not receive as much adulation and love for your acting career, which was a planned career move as opposed to your writing career?
But what if it happened to me at 20 and by 40, it was over? That would be terrible. The second thing is you can only do something well if that is what you have been made to do. It's not my theory but Friedrich Nietzsche's, when he said that your attributes are pretty much defined by the time you are 13-14. The things that you love are there. You just have to put them on a shelf and examine them. My whole life I've been a reader. I don't think I can even go the bathroom without having something to read. On my flight back from Cape Town, I had nothing to read in the bathroom and I read the back of shaving kits! So words have been my whole life. Whether I'm on this side of it as a reader or that side as a writer, I'm still immersed in the world of words. This is something that's one of my strengths and if you work hard on your strengths, then you have a better chance of succeeding than when you work on something that's not. I don't feel that being in Bollywood or being an actress was playing on any of my strengths.
So you would not consider doing a cameo in a movie?
Why should I? Give me one good reason.
You have so many filmmaker friends in the industry. What if one of them asks you?
Why do I want to ruin their movie?
How about writing for movies?
I was writing columns, now I've written two books. I don't know what I will write next. I have another job as well. I have an interior store and a candle factory. And between these three, I have enough on my plate. In fact, my plate is overflowing now. Everything has fallen and it has fallen on me only!
Source by dnaindia…
Share: