Wondering why is Adnan Sami receiving a lot of flak on Twitter? Here's why
The singer was at the receiving end of Twitter backlash after people called him out for tweeting in support of India.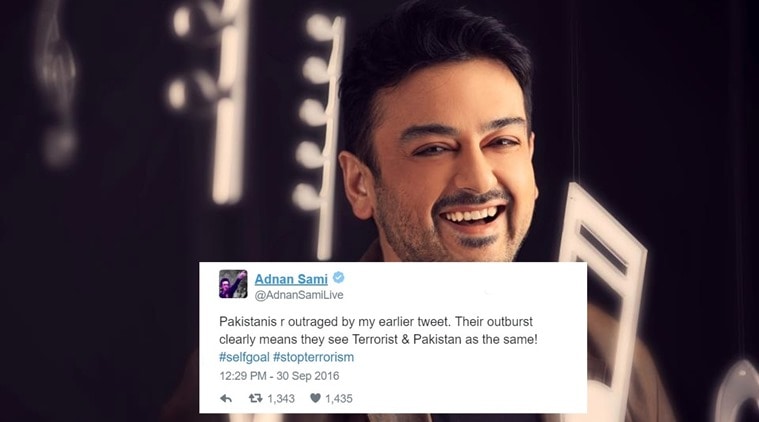 Adnan Sami tweeted supporting India's move in the ongoing India-Pak tension, and Twitter was not kind to him afterwards. (Source: Adnan Sami/Facebook)
India on Thursday announced that the army conducted surgical strikes on terrorist launch-pads in Pakistan occupied Kashmir (PoK). Soon after the announcement, many Indians took to Twitter and Facebook to express their delight at what was seen as India's retaliation to Uri attack which killed 19 Indian soldiers.
Many congratulatory and celebratory messages were posted, directed to Prime Minister Narendra Modi, who is being lauded to have taken a courageous step. Singer Adnan Sami too, joined in the revelry and took to Twitter to write this congratulatory post addressing the Prime Minister: Big Congratulations to @PMOIndia & our brave Armed forces for a brilliant, successful & mature strategic strike against #terrorism ! #Salute
But the singer's tweet was met with a huge backlash afterwards. Adnan Sami submitted a request for Indian citizenship in May, 2015 after his Pakistani passport expired and was not renewed by the government there. People have criticised Sami for siding with India, in spite of being the "son of a PAF pilot".
Sami, however, chose to give a fitting reply to these people on the Internet. He said: "Pakistanis r outraged by my earlier tweet. Their outburst clearly means they see Terrorist & Pakistan as the same!"
With this, Adnan became one of the many soft targets of the ongoing tension between India and Pakistan. Twitter has been abuzz with hate for Sami, who was merely expressing his opinion.
With this, Adnan becomes one of the many soft targets of the ongoing tension between India and Pakistan. While MNS workers and supporters have declared that they will boycott artists from Pakistan like Fawad Khan, Ali Fazal, Mahira Khan etc. Sami is being spewed venom at, because he supported India's stand.
Share: